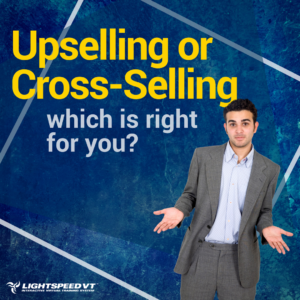 What is the meaning of upselling and cross selling?
Upselling is the practice of encouraging the purchase of anything that would make the primary purchase more expensive, while cross-selling invites customers to buy related or complementary items.
In the world of online course sales upselling is your friend!
Did you know, upselling works 20 times better than cross-selling? Once buyers have specific course content in mind, they don't really want to be distracted by something else. They are there to learn a specific skill. However, offer them a product or service that makes their first choice better and that's something they can usually get on board with.
The key to either approach is matching your suggestion to the customer's exact needs. By using LightSpeed's technology in conjunction with your sales process those needs can be identified and spoken to directly through interactive conversation based video. This allows you to actively listen to their needs and desires, determine which of your products or services could help them, and offer a cross-sell or upsell all while remaining virtual.
Lastly, be sure to keep your messaging during the sales process open, honest, and transparent. This will build a rapport with your customer — and could make it more likely that they purchase your upsell or cross-sell offer.